NBA 22/23 Season Review – The Numbers
A wild season comes to a close, our 5th consecutive delivering picks and analysis to you all.
It feels like a lifetime ago that Draymond punched Jordan Poole, Durant requested a trade from the Nets, and Morant declaring Memphis 'fine in the west' before finding himself in big off court troubles. It's fair to say a lot happens in a season of NBA.
One thing can't be questioned, the level of basketball on the court was tremendous. We saw Lebron make history, the Joker lead Denver to their first NBA championship, and Jimmy Butler prove to the world again he is one of the best 28 game players in the world.
Through all of that, here's where we finished – doubling members bankrolls with some change.
22/23 NBA Season Results: Our 5th consecutive Profitable Year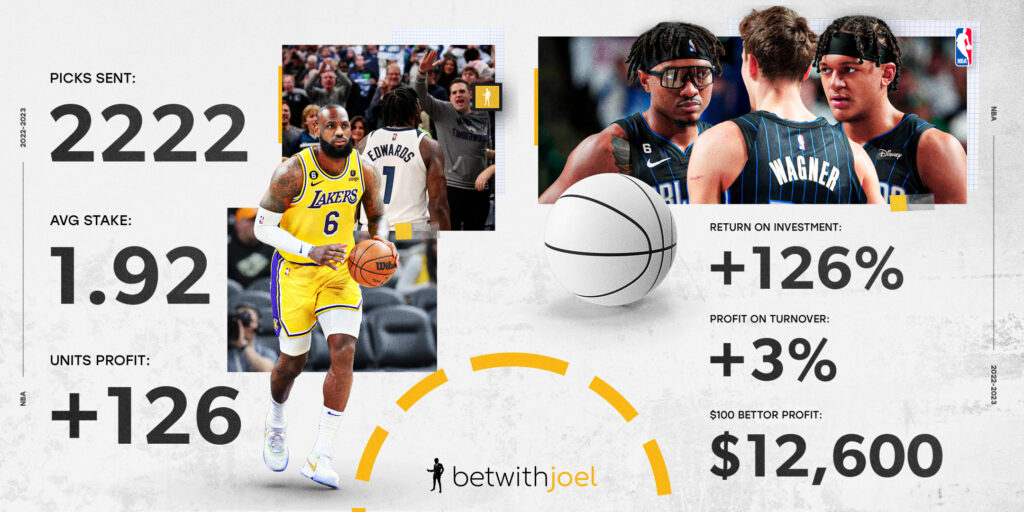 22/23 Season Data By Bet Type: The Numbers Breakdown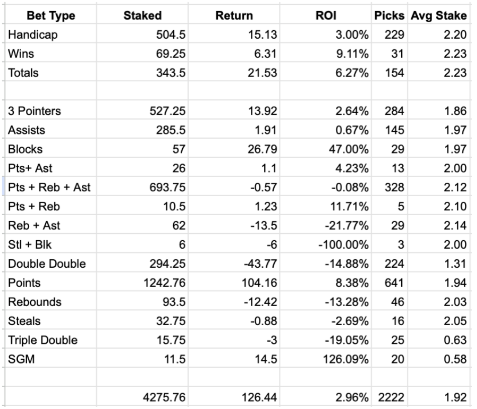 What Went Well? 
– Another fast start, it's been a clear trend over the past few seasons that we're sharper to adjust to new roles and new teams than the bookmakers.
– 5th Straight profitable season
– Picks that continue to beat Closing Lines (CL) & the market every day
– Bet Types:
Blocks +26.79u at 47% POT
Points +104.16u at 8.4% POT
Total Points +21.53u at 6.3% POT
Win Bets 9% POT from 31 picks
– Orlando Magic 'BWJs' team this season, profiting +22.71u going 14-3 from 17 bets.
Room For Improvement?
– Historic downswing from Dec – Jan, we did some deep data dives throughout this period and will have adjustments in 23/24 season.
-Nikola Jokic, despite being our best player in 21/22 and going on to win just about every award this season we were -16.38 units on his props
– Double Doubles (this may surprise a few) historically its been a strength of ours and with the high variance involved we came out the wrong side giving back 43.77 units to the books this year.
– Despite coming out on top when fading the Lakers – when we put our chips ON the Lakers this season it cost us a total of -15.35u
Full Historic NBA Returns:
Nearly 10,000 picks across 5 Seasons – every one returning a positive return.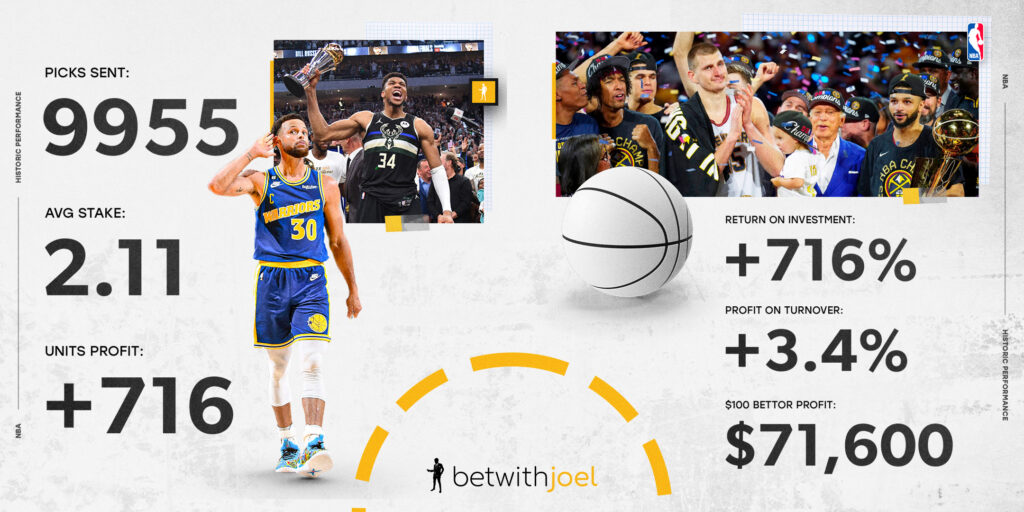 A noticeable positive this year was the way markets held in the NBA, with some bookmakers they were near rock-solid. We put this down to the US gambling market maturity, as volume continues to increase – a positive for our industry, as more liquidity in markets is great for investors moving forward.
If your looking to chat about your bankroll and what we're focused on investing in the NBA off-season, reach out.
We look forward to growing your banks again next NBA season!